FRAMES..don't like making the circles and ovals..but here's the 7 sets of 7 different designs with matching CIRCLE, DIAMOND, OVAL, RECTANGLE and SQUARE using bits and pieces of my flourishes collection.Technically, the circle and square skew pretty good to make the rectangle and ovals..but not always..so..had to make them fresh..
MADE the SHAPES fun first then we have the ROYAL RED and GOLD AND GREEN made up with the shapes!
Your freebies are matching corners not included in the kit for set 1 and 2..
Shapes kit is up in store now..waiting on the Royal Red and Gold and Green to pop up!
Until they do..this is a preview!
THanks for looking!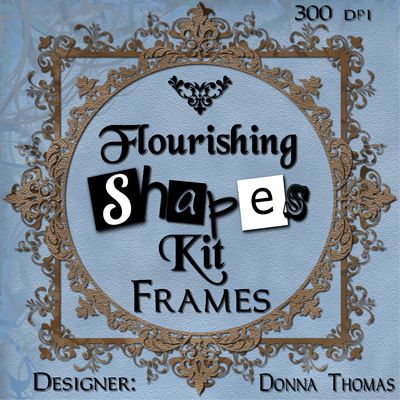 DLT flourishing Frames corner set 1 freebie.png
DLT Flourishing Shapes FRAMES corner set 2.png
RIGHT CLICK
Select SAVE IMAGE AS
and send to your favorite SHAPES section!